How We Met:
Ron and Kristi first met at Christ College Irvine (now called Concordia University) in 1992 when they appeared in a production of "Anything Goes". At the time each of them was dating someone else. But they shared many common friends, interests, theater parties and college moments together. Years passed, they graduated and went their separate ways, although neither of them knew how close they still were.
After college, Ron ran a theatre company and a web development firm until discovering aviation in the late 90s. He became a flight instructor as well as a competitive aerobatic pilot. For many years he sang with Opera Pacific in Orange County and performed in more than 50 operas until the company closed in 2008. Currently he continues to to teach aviation to private students and fly for a wide variety of companies.
For eight years, Kristi worked in commercial real estate and then did some social service work while exploring her heart's interest in competitive ballroom dancing.
She was advancing quite rapidly in the sport when one of her sesimoid bones fractured and left her unable to stand and walk for extended periods of time. Random fact: to this very day, Ron has hardly seen her anything but a pair of clogs (or a walking cast) because they're easy on her feet. 🙂
This injury left Kristi on her butt more often then she was comfortable with, so in an effort to entertain herself, she signed up for Facebook and started becoming a cyber-geek. That's when she ran into Ron again!
What neither of them realized is that they had lived in the same town and shopped in the same stores for the greater part of 15 years and didn't realize it. Ron wasted no time and quickly befriended Kristi. They started sending long emails back and forth everyday! With in a week, he invited Kristi on their first date: a solo flight to Catalina. It was love almost immediately and the two have scarcely been seen apart.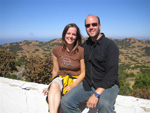 How We Got Engaged:
Almost from the very first couple of dates the two have been talking about marriage and the possibilities in the future. In fact, after a month, both of them knew quite certainly that theirs was a love that didn't compare to anything else either one of them had ever experienced or one that they rarely see. Theirs was the easiest, most loving, fullfilling relationship and all that both of them could think was that God knew what he was doing. There was a reason they waited this long to find each other again… They were worth the wait and God's timing is better then anything they could ever of imagined. Everything just fit… and both of them finally understood what people had been telling them for years, "you just know".
In Early spring the date was set, but Ron wanted to do things the proper way and asked that they keep the date private until he could ask for Kristi's hand in marriage the proper way; asking her father and then giving her an engagement ring.  Well, they did they did just that and on May 28, at Kristi's house, in the very location where they had first talked about getting married, Ron pulled out the ring from his pocket and asked Kristi if she'd marry him.  Tears came pouring down both of their faces while they smiled and kissed in the mushy fashion that many of their friends have had to endure time and time again.
The rest is just the beginning…