Posted on November 16, 2009.
Hello friends and family!
We just returned from ten glorious days in Maui and wanted to take the opportunity to thank everyone for being part of our wedding! We couldn't have asked for a more perfect day, or a better group of people to share it with. Seeing all those smiling faces in the seats and on the dance floor were what we envisioned, and sure enough that's exactly how it turned out!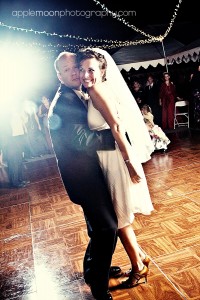 Kristi and I were surprised at how much energy we still had after the reception ended. About 20 of us ended up on Higuera St. in downtown San Luis Obispo after the reception. After an hour or so at Spike's Pub, we spent the rest of the night — until closing at 2 a.m.! — on the expansive wood deck at Novo, sharing good drinks, appetizers, and a lot of laughs.
The days leading up to the wedding were quite memorable, too — mostly in a good way. Of course, there were a few snags here and there. Sometimes literally, like when the big green gate at the Vest estate unceremoniously closed on the best man's shiny Audi A4. I'm glad I wasn't there to hear the crunch. (David, I owe you some sheet metal, my friend…).
But mostly it's things we'll laugh about in the years to come. Like purchasing an entire restaurant at the local Costco. Or finding Misty out in the dark planting flowers despite having a bad cold. Or painting miniature airplanes and assembling centerpieces at 3:00 a.m. the night before the rehearsal.
We are particularly thankful to Jerry, Cynthia, Jared, and Misty for all the hard work getting the house ready for the ceremony. Everyone we spoke to commented on how stunning the property looked. We searched high and low for a wedding location that could compare to the Vest home, and nothing else came close.
Speaking of stunning, our photographers have put up a slide show of pictures from the wedding. You might remember the music, too. 🙂
Also, check out their blog entry, which has a bunch of stills Michael & Maren tagged as their favorites. The page takes a while to load, even on a high-speed connection, but the final result is well worth the wait.
Well. It's been a long day of travel for these honeymooners! It's nice to be back, but we're already missing the Valley Island. We'll fill you in on the honeymoon once we've had a chance to sort through the photos. G'night all!